Ski Club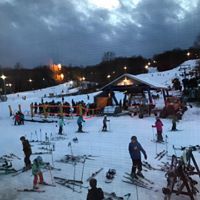 Come have fun on the slopes of Mount Southington this winter with the YMCA!
This year ski club is open to all Berlin school students in Grades 3-12, and their
families (parents or other family members) that want to participate and take advantage of our special YMCA group rates. Registration is online this year. Group participants register for their group, fill out rental information and sign the waivers online on the Mountain Southington web site, then payment is made to the Berlin YMCA.
Please note: Transportation is not included this year. Y- Ski club this year is "on your own", and Y staff/chaperones will not be provided. Mount Southington will have plenty of staff on hand to distribute tickets on the first day and to enforce all COVID guidelines that they have in place.
---
Day/Dates/Times
Tuesdays for 5 weeks
January 12, 19, 26 and February 2 & 9, 2021
Choose Session 1 Berlin YMCA Afternoon 3:00 p.m.-8:00 p.m. or Session 2 Berlin YMCA Evening 5:00 p.m.–9:00 p.m.
---
Registration Information
Opens December 3rd. Registration is all online this year.
Step One: To register for the group please click here. For anyone renting equipment, there is a section on the form to fill out the appropriate info and sign the waiver. When registering use the group name you are registering for, either Berlin YMCA Afternoon or Berlin YMCA Evening.
Step Two: Make payment online or call the the Berlin YMCA at 860.357.2717 or the New Britain YMCA at 860.229.3787.
---
Rates
Afternoon rates (ski or snowboard)
Lift only = $160
Lift & lesson = $205
Lift & rental = $230
Lift, lesson or rental = $265
Evening rates (ski or snowboard)
Lift only = $165
Lift & lesson = $270
Lift & rental = $265
Lift, lesson or rental = $305
---
More Information
Rental cards will be in the rental department on the first visit.
Each participant will receive 5 dated tickets, one per week. Please wear the appropriate dated ticket on the day
you come to the mountain to ski.
As a reminder the lessons are offered at 3:30 p.m., 4:30 p.m., or 5:30 p.m. for the afternoon session and 7:00 p.m. for the evening session.
Visit mountsouthington.com/covid-19 for Mount Southington's COVID safety protocols.
Please contact Donelle Daigle for more information at 860.357-2717 or ddaigle@nbbymca.org
Contact the New Britain - Berlin YMCA ›