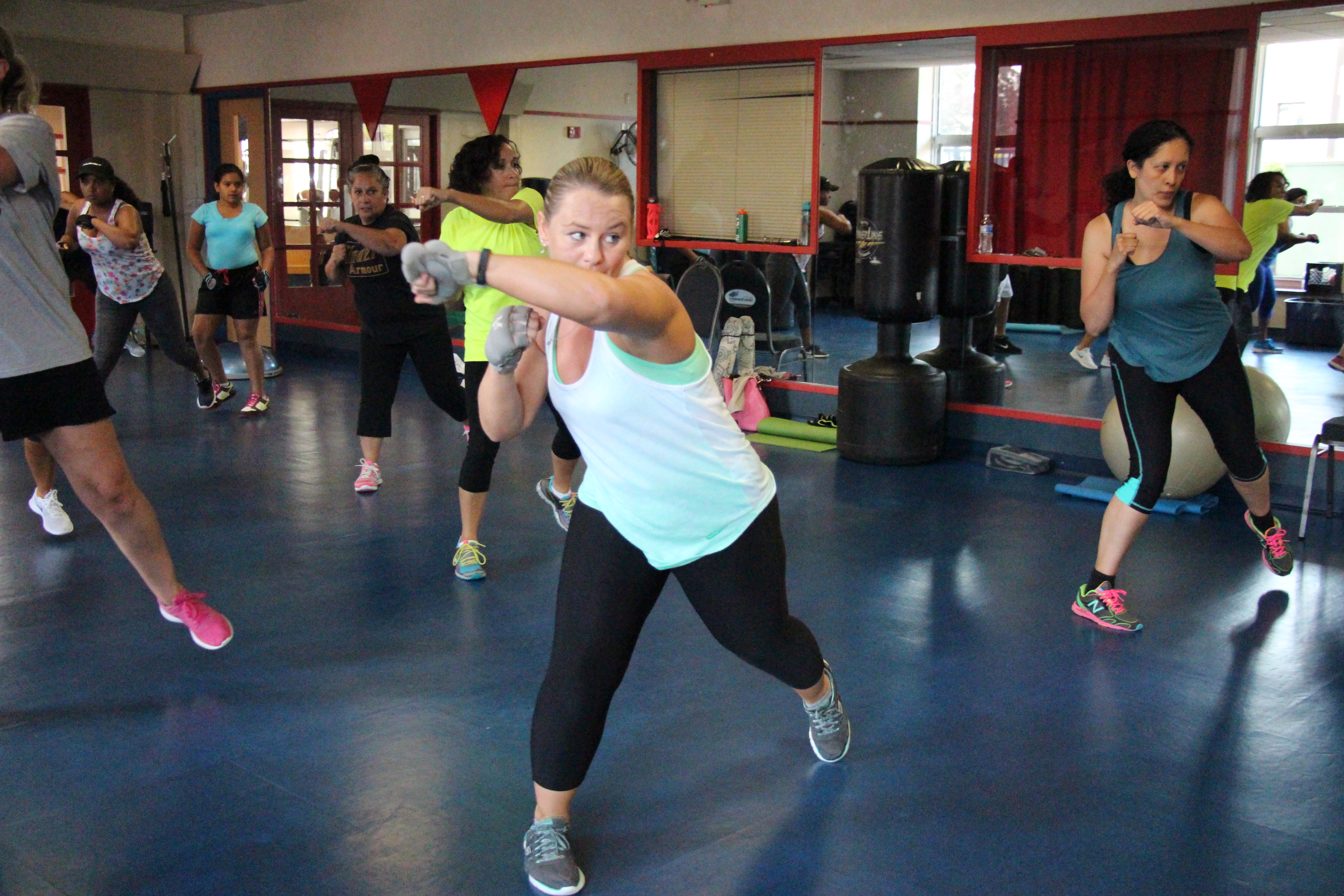 Stay young at heart by staying in shape. Our Adult Group Exercise Classes not only offer a great way to keep you moving, they also help you build greater confidence, form new friendships, and have a lot of fun in the process. We have something for everyone!
As a full privilege member of the Meriden-New Britain-Berlin YMCA, you can enjoy group fitness classes at any of our locations.
Here are some of the fun classes available to you!
Boot Camp - A high intensity workout that emphasizes muscular and cardiovascular endurance. This 30 minute class utilizes plyometric and callisthenic exercises in tandem with dumbbells, steps and your own body weight.
Chair Yoga - Gentle form of Hatha yoga sitting or standing using a chair for support and adaptive poses.

Hydro Fit

-

Low-impact class designed to improve cardiovascular endurance, strength & muscle tone, flexibility, and balance. Work out to your favorite music.
Indoor Cycling - Indoor Cycling is a motivating group workout with energizing music which mimics all aspects of road biking.
Intro CrossFit - Constantly varied, high intensity, functional movements designed for all ages and abilities guaranteed to bring your fitness to a whole new level.
Pilates - Pilates is a method of exercise and physical movement designed to stretch, strengthen and balance the body.
Piloxing - A mix of Pilates and boxing moves producing a fat torching core centric interval workout.
PiYo - PiYo is a hybrid athletic workout which combines mind/body practices of yoga and Pilates a well as the principles of stretching, strength conditioning and dynamic movement. Offered in Berlin.
Pound™ - Designed for all fitness levels, POUND® provides the perfect atmosphere for letting loose, getting energized, toning up and rockin' out! (Poundfit.com)
Silver Sneakers®Classic - Have fun and move to the music through a variety of exercises designed to increase muscular strength, range of movement and activities for daily living.
Spinning -

A great way to cross train and improve your overall physical health! Our workouts take place in a motivating group setting with energizing music and enthusiastic instructors. Spinning will enhance your speed, strength, stamina and increase your caloric burn. We cater to all levels of fitness, from the Tour De France enthusiast to the novice rider.

Stretch & Flex - A low impact 1-hour class is excellent for beginners new to the fitness world. The class includes light stretching, focusing on specific muscle groups throughout the body, progressing to a light weight routine.
S.W.E.A.T. - S.W.E.A.T. means Strength through Weights, Endurance through Aerobics Training. This multifaceted class is always new and always a challenge. Push yourself further as you SWEAT.
Tai Chi - A Chinese martial art and form of stylized meditative exercise focusing on movement and bodily balance.
Water Aerobics - This exercise class is gentle on your joints while helping you to get into shape. This program targets the whole body but primarily focuses on the legs and hips to improve flexibility and strength.
Yoga - Balance the spirit, mind and body with a series of prescribed poses, controlled breathing and meditation. Come find your inner peace!
ZUMBA® - Come join the ultimate DANCE PARTY! Latin inspired rhythms and dance movements make this fun workout a must. We offer ZUMBA Toning, and ZUMBA Gold (Meriden).