Gymnastics Birthday Parties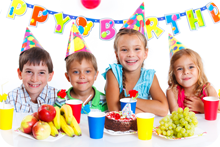 Flip for fun at an awesome birthday party at the Meriden YMCA Gymnastics Center located at in our Meriden YMCA Athletic Center at 74 Cambridge Street in Meriden!
One and a half hour or two hour party options available.
Contact the Meriden YMCA at 203.235.6386 and we will connect you with Coach Mandy for all of the details or email Coach Mandy at mmakein@meridenymca.org.
Contact the New Britain - Berlin YMCA ›