Special Membership Offers
Try the Y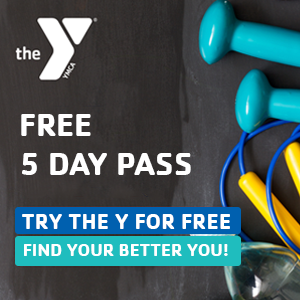 Want to see what the Y has to offer? Try out the YMCA for free for five days. This pass is valid for community members (adult, family, one parent family or senior adult) who have never visited the Meriden-New Britain-Berlin YMCA.
For one-time use for five consecutive days.

May not be combined with other offers.

See Membership Options for description of memberships.

Click on the button below to request a pass.

Contact the Welcome Center for details at (860) 229-3787.

---
Find Your Wellness. Find Your Y.
Family $55/month
One Parent Family $45/month
Adult $35/month
Join the Y to take care of yourself and spend quality time with your family. Your Y membership offers you:
Your Meriden-New Britain-Berlin YMCA membership offers you:
Lots of fun group exercise classes which are included with your membership for no extra fee
Cardio equipment to get your heart pumping
Fully equipped fitness centers to build your strength
Heated indoor pools to swim laps, enjoy water aerobics and open swim time
Indoor Track for walking and running (Meriden)
Basketball and racquetball courts to get your game on
Child Watch babysitting service included while you work out
Special lower full member rates on programs and summer camp
Here's how it works:
Sign up January 1 - January 31, 2022.
No joiner's fee. No contracts.
Offer valid for new memberships, those members coming off a summer membership special, and any previous members who have not returned yet since we reopened in June 2020. You may also upgrade from a youth membership to a family membership and take advantage of these special rates.
Any outstanding balances on your account must be taken care of before signing up.
Must draft a minimum of one month before you can cancel your membership.
May not be combined with other offers or discounts.
Membership drafted monthly out of a bank or credit card account.
For more information and to schedule a tour contact:
---
Get in the best shape of your life
Intro to CrossFit $129
Step up your fitness game and try CrossFit!
What is CrossFit?
CrossFit is a strength and conditioning program that is for everyone, every age, body shape and fitness level. CrossFit is built on movements which help build a healthy foundation for everyday activities. Workouts are scaled according to a person's fitness level and needs.
How do I get started?
Sign up for our 3 Week On Ramp for $129. You will receive six one hour sessions with a CrossFit coach to prepare you for group classes. Your coach will teach you the proper techniques. On Ramp classes are required before taking group classes.
What happens after completing On Ramp?
Choose your plan and get your first month free! This is for all memberships except for CrossFit Kids. Memberships draft monthly out of a bank or credit card account. Members must draft a minimum of one month before cancelling a CrossFit membership.
Call Carrie at 203.440.1925 to learn more.
Contact the New Britain - Berlin YMCA ›